Mini-Mesh FRP Grating Panels
Mini-Mesh Fiberglass Grating has all the benefits of our standard Molded FRP Grating with a smaller mesh size. Also known as Micro-Mesh or Mini-Grid, our FRP Mini-Mesh panels are perfect for applications that require less light or water to pass through the grating.
Mini-Mesh Molded Grating bearing bars are spaced on ¾" centers creating ½" x ½" square openings. Micro-Mesh is close to twice as heavy as 1.5" square mesh grating as there are twice as many bearing bars per square foot. The additional bearing bars on the top surface add a little more strength to each grating panel, so a mini-grid panel will have slightly less deflection than a standard-grid panel of the same depth.
Fiberglass mini-mesh in 4′ x 8′ x 1″ deep panels and 4′ x 8′ x 1.5″ deep panels. The 1 inch deep panels require the underlying supports space on 2-fot centers or less, whereas the 1.5 in deep panels will span 3 feet.
Our mini-mesh grating is available in standard grit, which is fairly coarse and provides excellent traction and fine grit which provides an extremely comfortable, yet safe walking surface suitable for Fiberglass Docks.
Call 1.844.599.0260 for a quote on Mini-Mesh FRP Grating
Mini-Mesh Molded Grating Profile:
Min-Mesh Fiberglass Grating Load Table: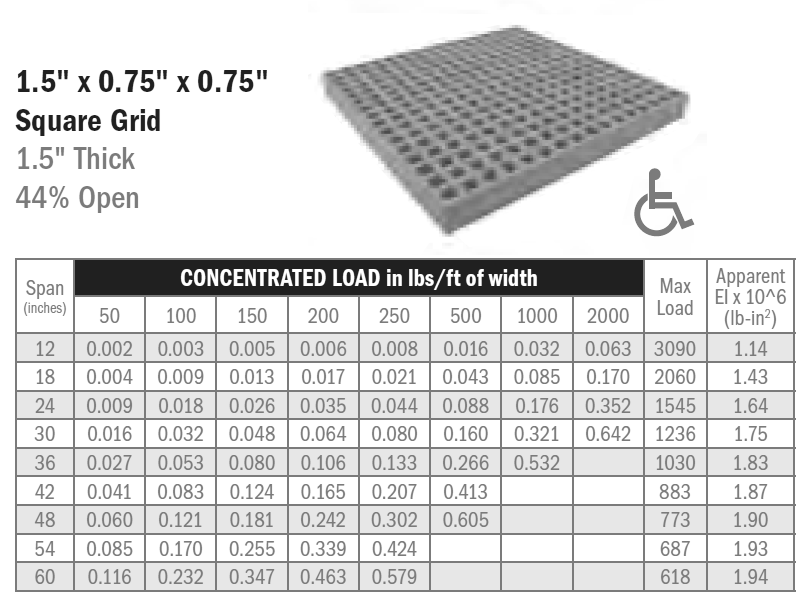 Looking for the strength of steel without the weight? Our fiberglass-reinforced polymer (FRP) mini-mesh grating has the advantage. Our molded grating is corrosion-resistant, fire-retardant, and has low conductivity. It comes with an anti-slip coating for worker safety. And it's easy to install with standard tools.
Whether you need simple grating panels or a complete FRP system with handrails, stairs and platforms,we have the solution to match.
We stock mini-mesh fiberglass Grating  in 1" and 1-1/2" Depths in Gray – Gritted. Panel Size: 4′ x 12′.
Call 1-877-7788 for pricing and availability or email sales@nationalgrating.com.
Bulk and Wholesale Discounts Available on Large Orders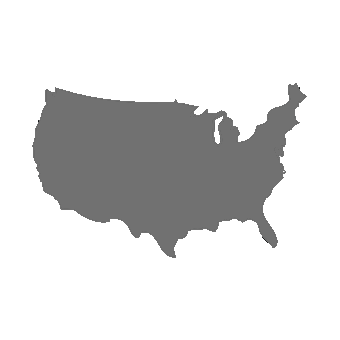 Fast Delivery via our Superior Logistics Network
National Grating provides mini-mesh molded fiberglass grating to ALL major cities including:
Texas: Houston, Dallas / Fort Worth, San Antonio, Austin, El Paso, Arlington, Dallas, and Brownsville
New York: Buffalo, Rochester, Monroe, Yonkers, Westchester, Syracuse, and Albany.
Pennsylvania: Philadelphia, Pittsburgh, Allentown, Erie, Reading, Scranton, and Bethlehem
California: Los Angeles, San Diego, San Jose, San Francisco, Fresno, Sacramento, and Oakland
Florida: Jacksonville, Miami, Tampa, Orlando, and St. Petersburg
Illinois: Chicago , Aurora, Rockford , Joliet , Naperville, Springfield , Peoria, and Elgin
Ohio: Columbus, Cleveland, Cincinnati, Toledo, Akron, Dayton , Parma , Canton, and Youngstown
Georgia: Atlanta, Augusta, Columbus, Macon, Savanna, Athens, Sandy Springs, and Roswell
Nort Carolina: Charlotte, Raleigh , Greensboro , Durham , Winston-Salem , Fayetteville , and Cary
Michigan: Detroit, Grand Rapids, Warren , Sterling Heights, Lansing Eaton & Ingham , and Ann Arbor
New Jersey: Newark , Jersey City, Paterson, Elizabeth, Edison, Woodbridge, and Lakewood
Virginia: Virginia Beach, Norfolk, Chesapeake, Richmond, Newport News, Alexandria, Hampton
Massachusetts: Boston, Worcester, Providence, Springfield, Bridgeport, New Haven, Hartford
Indiana: Indianapolis, Fort Wayne, Evansville, South Bend, Carmel, Fishers, Bloomington, Hammond
Also: Seattle, Spokane, Tacoma, Phoenix, Tucson, Scottsdale, Nashville, Memphis, Knoxville, St. Louis, Kansas City, Baltimore Annapolis, Frederick, Birmingham, Mobile, Huntsville, Milwaukee, Madison, Green Bay, Minneapolis, St. Paul, Duluth, Colorado Springs, Bolder, Fort Collins, Columbia, Charleston, Mount Pleasant, New Orleans, Baton Rouge, Shreveport, Louisville, Lexington, Frankfort, Portland, Eugene, Bend, Oklahoma City, Tulsa, Norman, Hartford, New Haven, Stamford, Des Moines, Cedar Rapid, Iowa City, Jackson, Biloxi, Gulfport, Waterbury, Roanoke, Gary, Little Rock, Fayetteville, Hot Springs, Salt Lake City, Park City, St. George, Wichita, Topeka, Henderson, Carson City, Albuquerque Santa Fe, Charleston, Morgantown, Huntington, Boise, Nampa, Meridian, Idaho Falls, Bangor, Augusta, Manchester, Portsmouth, Concord, Providence, Newport, Warwick, Missoula, Billings, Bozeman, Wilmington, Dover, Newark, Sioux City, Rapid City, Fargo, Bismarck, Anchorage, Juneau, Fairbanks, Burlington, and Cheyenne
Our pricing and service experts are standing by to help to find the best product for your project. With many varieties in stock and expedited shipping, we can supply your project with mini-mesh, micro-mesh, or min-grid fiberglass grating at the best possible price with the lowest freight charges.
https://nationalgrating.com/wp-content/uploads/2015/03/0-mini-grating-1.png
170
300
NG Admin
https://nationalgrating.com/wp-content/uploads/2022/01/NG-Logo-JAN-2022-300x128.png
NG Admin
2015-03-18 22:57:47
2022-03-17 22:11:06
Mini-Mesh Fiberglass Grating