FRP Decking from National Grating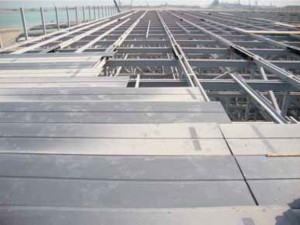 Fiberglass Decking Systems are an excellent solution for corrosive or high need applications like cooling tower roofing or bridge decks. Fiberglass decks are produced using the pultrusion process and incorporate interlocking systems, depending on which type of deck are used.
FRP Outdoor Decks are easy to install, lightweight, and corrosion resistant. They are available with solid panels or with punched slots to give an open area up to 14%. Decks with higher open area values facilitate the draining of water and allow for air movement. Be sure to confirm that you have the right strength to surface area ratio when selecting FRP deck materials – we can help you find the right specification. Pricing for fiberglass decking is quoted by the sheet. National Grating stocks a number of FRP deck materials for quick delivery at the best price.
Applications for Fiberglass Decking
Lighter fibreglass deck panels are used in light use traffic areas, such as cooling tower fan decks. The heavier FRP deck panels are used in higher load bearing applications, where equipment and personnel weights require more robust deck surfaces.
Discuss the specific needs of your project with one of our Fiberglass Decking experts. We will ensure that the material you select will have the weight to surface area ratio required for safety and optimum performance. You will also benefit from our industry-leading quick quote turnaround and fast delivery.
For all FRP Decking inquiries, please call 1-877-984-7788 or email sales@Nationalgrating.com or Request a Quote.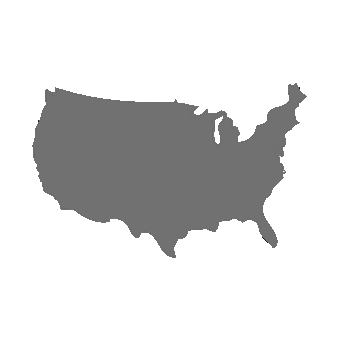 Fast Delivery via our Superior Logistics Network
National Grating provides fiberglass decking to ALL USA States including California, Oregon, Alaska, Florida, Washington, Nevada, Ohio, New York, Texas, New Mexico and Utah. Our pricing and service experts are standing by to help to find the best product for your project. With many varieties in stock and expedited shipping, we can supply your project with FRP deck products at the best price.

Fiberglass Decks and Radio Frequency Transparency
In today's connected world, we depend on cellular telephone signals, Wi-Fi networks and over the air radio and television signals. Wi-Fi and Bluetooth connectivity are essential to on-site work environments. Steel structures significantly disrupt these signals. FRP decks are an essential part of building structures that are "electronically transparent" and do not interfere with radio frequency transmissions.