Pultruded FRP Grating
Pultruded Fiberglass Grating is high-strength grate that performs well in corrosive environments or where a lightweight grating is preferable. Fiberglass Grating pultrusions come in three categories: I-Shape bars, T-Shape bars, and High-Load bars for Heavy-Duty Applications. The bearing bars are interconnected with cross-rods every 6 inches. See the pultruded grating specs page for information on selecting the right grating for your application. See the video below to compare molded and pultruded grating.
FRP Grate Benefits: Corrosion resistant. High strength-to-weight ratio. Long service life. Fire retardant. Slip & impact resistant. Non-conductive. Superior ergonomics. Easy to fabricate. Easy to install. Attractive, clean finish.
Resins available for Pultruded Grating: Fire retardant isophalic polyester, isophalic polyester, vinyl ester, fire retardant vinyl ester, and phenolic. Our standard grating is ISO-Polyester, which provides superior performance in corrosive environments.
Call for Pricing on the following FRP Bar Grating Profiles
I-6000 , I-6010, I-6015
I-4000, I-4010, I-4015
T-1800, T-1810, T-1815
T-5000, T-5020
Pultruded Fiberglass Grating Specifications
All are available in polyester or vinyl ester for extremely corrosive environments. Select from one of the profiles above are call 1-877-984-7788 for a quote on our many custom profiles and panel sizes available.
Not sure which type of grating is best for your application?
Download our Grating Selection Chart use our Quick Quote Form.
Prefer to talk? Call us at 1-877-984-7788. We can help!
Molded or Pultruded? Which is right for your project?

Go back to the top of this page
FRP Applications for Your Industry
Our pultruded FRP gratings have applications in many industries, including:
chemical processing
food & beverage
marine
aquatic centers
oil & gas
power
manufacturing
construction
pharmaceutical
Flame Retardant FRP Grating
Our pultruded grating is manufactured using a pultruded process using polyester or vinyl ester resin with flame retardant and ultraviolet (UV) inhibitor additives. A synthetic surface veil in the outermost layer covering the exterior surface.
6 Inch Cross Rods
The bearing bars are joined into panels by passing continuous length fiberglass pultruded cross rods through the web of each bearing bar. Each continuous fiberglass pultruded bar shaped section is wedged between the two cross rod spacers mechanically locking the notches in the cross rod spacers to the web of the bearing bars.

Continuous chemical bonding is achieved between the cross rod spacers and the bearing web and between the bar shaped wedge and the two cross rod spacers locking the entire panel together to create a panel that resists twist and prevents internal movement of the bearing bars.
Continuous Strand Mat
The FRP grating and stair treads shall be fabricated from bearing bars and cross rods manufactured by the pultrusion process. The glass fiber reinforcement for the bearing bars shall be a core of continuous glass strand rovings wrapped with continuous strand glass mat. A synthetic surface veil shall be the outermost layer covering the exterior surfaces.
Bulk and Wholesale Discounts Available on Large Orders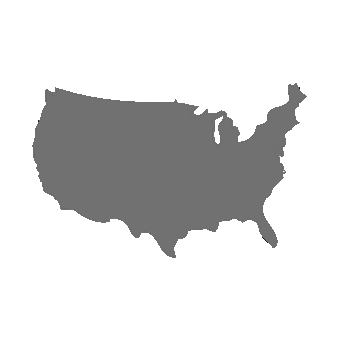 Fast Delivery via our Superior Logistics Network
National Grating provides pultruded fiberglass grating, fiberglass tube, fiberglass angle and hardware to ALL USA States including California, Oregon, Alaska, Florida, New York, Illinois, Pennsylvania, Ohio, Georgia, Michigan, Virginia, Massachusetts, Arizona, Washington, North Carolina, Nevada, Texas, New Mexico, Indiana, Tennessee, Colorado, Maryland, Missouri, Wisconsin and Utah. Our pricing and service experts are standing by to help to find the best product for your project. With many varieties in stock and expedited shipping, we can supply your project with pultruded fiberglass grating at the best price.

Pultruded Fiberglass Grating Radio Frequency Transparency
In today's connected world, we depend on cellular telephone signals, Wi-Fi networks and over the air radio and television signals. Wi-Fi and Bluetooth connectivity are essential to on-site work environments. Steel structures significantly disrupt these signals. Fiberglass structures and pultruded fiberglass grating are an essential part of FRP building structures that are "electronically transparent" and do not interfere with radio frequency transmissions.