FRP Grating Plays Role in Pirate Ship Theater Production
Molded Fiberglass Grating has been used in some unique places, but this is our first application on a pirate ship! The Caravan Stage Company recently used National Grating's green molded grating to create the upper performance platforms on its floating stage.
ABOUT THE SHOW
After eight years of touring European rivers and the Balkan and Mediterranean Seas, the theater company is returning to North America. Its current show — "HACKED … THE TREASURE OF THE EMPIRE!" — is an experimental opera that tells the tale of pirate hacker activists taking on the largest global bank on the planet, set in a futuristic world.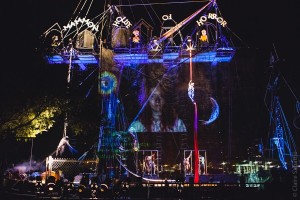 The entire show is performed on a 90-foot traditional sailing ship, with a cast of nearly 40 personnel using the deck and rigging to entertain the audience. In addition to being the performance stage, the ship serves as the crew's living quarters, with sleeping chambers, storage and a galley below deck.
THE ROLE OF FRP
The molded grating is utilized on the platforms that sit high above the ship's deck. The FRP grating is ideal for this application — not only because of its light weight, strength and durability, but also because of its corrosion resistance in harsh coastal environments. FRP offers the strength of steel but is up to 75 percent lighter and does not rust.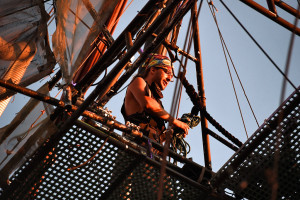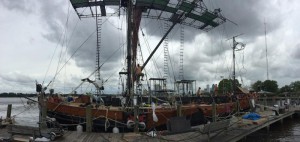 The Caravan Stage Company is currently on tour with stops along the east coast of the U.S. and Canada
https://nationalgrating.com/wp-content/uploads/2015/01/ng-home-logo.gif
0
0
NG Admin
https://nationalgrating.com/wp-content/uploads/2015/01/ng-home-logo.gif
NG Admin
2015-08-26 20:20:36
2015-08-26 20:23:40
Fiberglass Grating Plays Role on Pirate Ship