Non-slip Marina Walkway Panels For New Installs and Upgrades
FRP Walkway Panels Install Fast and Last For Years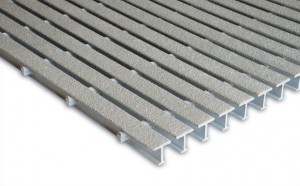 Non-slip marina walkway grating panels from National Grating are a great option to renew or repair dock surfaces at your marina, cottage or waterfront facility. We have a non-slip dock surface that works for the configuration of walkways at your marina or private dock, whatever the dimensions. Our dock surface grating material comes in easy to use sheets of 2′, 3′ and 4′ wide, with lengths from 8′ to 20′. It is also available in several colors and depths, which means that we have a ready solution, whatever the load bearing capacity and span strength you require.
FRP non-slip (or non-skid) dock surfaces from National Grating install quickly and look great. You can easily cut them to size them yourself with a circular saw and a diamond blade. They can be fastened to existing support structures with purpose-designed clips that are very easy to use. FRP walkway panels outperform wood, which degrades quickly in a wet environment, cracks and checks in the freeze thaw cycle and suffers from the use of cleaners and de-icing chemicals. The FRP dock surface easily handles foot traffic, rolling carts and all the demands made in a busy marina environment.
Mini-Mesh Marine Grating
One of the most popular fiberglass marine grating options is Mini-mesh grating. The top surface is made from a grid pattern using 1/4″ wide bars space ever 3/4″ creating 1/2″ open squares. This provides a great deal of surface area and is extremely comfortable to walk on in bare feet.
Call 1.844.599.0260 for a quote on Mini-Mesh Grating
Non-slip walkway panels from National Grating are made of lightweight FRP, and do not require heavy equipment to move them. Installing steel grating or heavy dock timbers is time consuming, dirty work. FRP dock non-skid walkway materials can be installed quickly, as each section covers a larger surface area – panels come as large as 80 square feet! No welding or torching required.
Choose from surfaces that are easy to walk on, even in bare feet, or industrial options with a very high percentage of open area for maximum water drainage. Our gritted slip-resistant surfaces provide safe footing on your dock in rain and heavy weather.
Some Answers to Common Questions
Do you have non-slip walkway panels that are safe for bare feet?
We have several alternatives for barefoot traffic. For solid coverage, choose a solid non-slip FRP panel in sheets 4′ wide. For surfaces that drain quickly, choose a grating option with both open area and lots of surface support, such as our T1700 pultruded grating, which has only a 17% open area on its surface. Another alternative is "mini mesh" grating which has a good combination of open area and small spans between support areas.

T1700 non-slip grating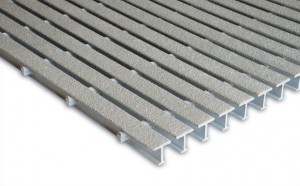 Non-slip FRP panel (close-up).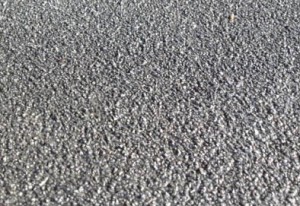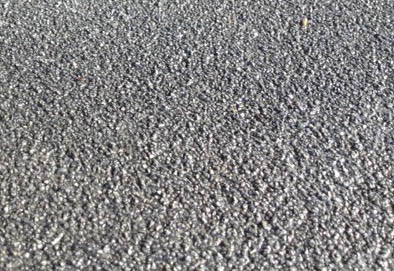 Mini-Mesh FRP Grating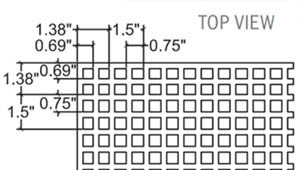 What is the difference between your panels and other walkway panels?
FRP walkway panels use fiberglass reinforced resins that do not have the pitfalls of other commonly used dock walkway materials. Our panels will never rot, warp, check and splinter like wood. FRP won't crack, split or yellow like inferior plastic materials. FRP panels won't crumble or crack like rubber. FRP doesn't rust, corrode and become jagged and dangerous to walk on like steel. Finally, FRP does not have to be painted and can stand up to chemicals, oil, detergents and pressure washing.
Isn't this specialized material? Can we install it ourselves?
FRP is actually much easier to handle and install than many other materials. It can be easily cut to size with a common circular saw and a diamond blade. We supply easy to use clamps that safely fasten the panels with standard screws. No welding or torch-cutting required, which saves the intensive labor that goes into steel structures. Marinas have traditionally used heavy planks that cover three or four square at a time, but FRP panels cover much larger surface areas for the same weight, and panels can be as large as 80 square feet. FRP's easy handling means you have the ability to complete large areas of your project quickly and safely.
What kind of weight do FRP marina walkway panels support?
There is a FRP panel specification suitable for every type of traffic – foot, cart and utility trolleys, even vehicle traffic. We have load tables and a handy visual selection chart available that walk you and your engineer through the numbers.
How long will it take to get what I need?
Chances are we have what you need in stock right now. National Grating has a distribution network across the country and our warehouses stock all common sizes, thickness and colors of FRP grating and sheet, ready to ship. Contact us today for a quick quote, and we will be sure to give you a precise freight cost and lead time as well.
Get your quote now!
1.844.599.0260
Our FRP experts are ready to help.
Bulk and Wholesale Discounts Available on Large Orders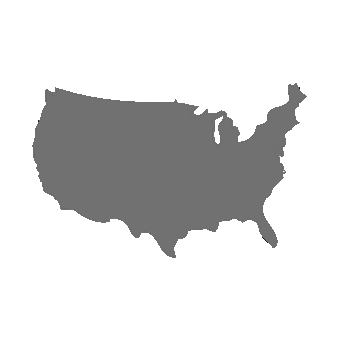 Fast Delivery of Marina Walkway Non-slip Fiberglass Grating for Drain and Trench Covers via our Superior Logistics Network
National Grating provides  Fiberglass Grating for Car Wash facilities to all major cities.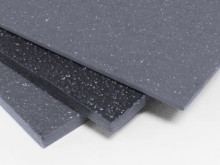 We understand the needs of marina operators and private dock owners – we have a long history of supplying fiberglass reinforced drain grates for marine and dock facilities like yours. Whether your operation is small or large, we have the marina walkway, ramp surface and frp walkway grating options to ensure safe foot and trolley traffic. Our pricing and service experts are standing by with fiberglass grating in stock and expedited shipping. We commit to supply your marina or dock walkway project with FRP sheet, molded or pultruded Fiberglass Grating at the best possible price with the lowest freight charges.

1.844.599.0260
Our FRP experts are ready to help.